SUNDAY, APRIL 23, 2006 E1, E39
ART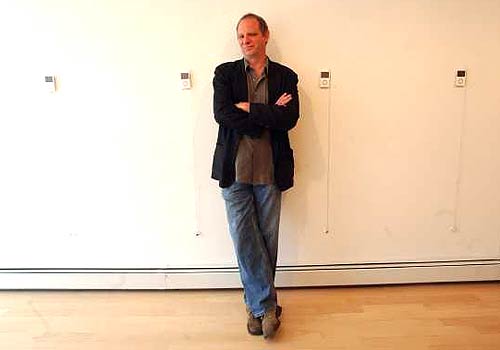 JENNIFER S. ALTMAN For The Times
ART WALL: "The iPod lets you experience a work of art individually,"says Jeff Wyckoff, beside viewing devices at his New York exhibition.
NEW MEDIA
An art show that's a feast for the i's

BY DAVID NG Special to The Times
New York
If you've seen artist Jeff Wyckoff's large-scale, medical-themed creations, his newest work will strike you as downright diminutive.

Just how diminutive? Think hand-held, lightweight and hipster-approved. Think, specifically, of an omnipresent white (or black) rectangular box, with matching ear buds.

"The last thing people expect to see on an iPod screen is a bunch of red blood cells," Wyckoff says one recent Saturday afternoon. The artist has been working on a five-minute video documenting in close-up the flow of his own blood. No narration, no music. Just millions of corpuscles swimming on a glass slide. Wyckoff explains that the act of viewing cells on an iPod approximates how a scientist might see them through a microscope. "The content really plays well within the physical context of the device," he says.

When Apple unveiled video-enabled iPods last October, industry analysts heralded a new pop-culture medium. (Take "CSI" with you wherever you go!) But artists around the world also seized on the gadget as virgin creative territory. Their inventive work is generating blog buzz and has also attracted the attention of some adventurous exhibitors as well as purely commercial enterprises. Call it a Warholian union between high art and consumer technology that could have a significant effect on the art world. Not tio menton meticulously ordered playlists everywhere."The iPod lets you experience a work of art individually," says Wyckoff. "You can pick it up and hold it. In a way, it makes a video piece feel more like a photograph."

JEFF WYCKOFF
LAB WORK: Wyckoff says his "Blood Lust," as viewed on an iPod, emulates what a scientist might see in a microscope.
Wyckoff's blood-cell video, titled "Blood Lust," is on display at "PodART II," an exhibition of 22 new iPod works at the Fine Art in Space gallery in Queens. The show, kicking off this weekend, is the sequel to the first "PodART" exhibition, which opened in December and, as far as organizers can tell, was the first of its sort anywhere. Not shabby for an artistic medium barely 7 months old.

Smaller format, big impressions
Buying into it

Hanging on the gallery walls, the iPods act as postage-stamp windows into pure imagination, and collectors willing to shell out $500 or more can take home the view and the window. Each iPod is a limited-edition item with the artist's name engraved on the back. (Apple donated the devices, which come in black and are sans corporate logo.)
Gallery prices aside, iPod art is usually an affordable and simple affair. Cash-strapped artists can use off-the-shelf digital cameras because the iPod's minute screen (3 square inches) is forgiving of blur and grain. Once the footage has been edited and mixed in a program such as Final Cut Pro, the video is converted to the MP4 format, which is the nonproprietary codec Apple has designated for the iPod. Users then upload the file to the device using the free iTunes software.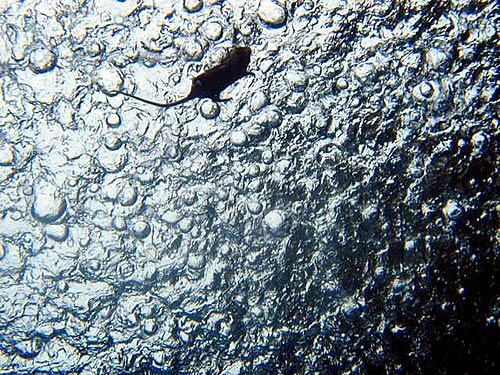 ADAM STENNETT
WET AND WILD: A still frame from Adam Stenett's "Mouse Swimming" video. "I like playing with scale and the iPod is all about smallness," Stennett says of his rodent-themed works.
For iPod artists, watching viewers experience their completed work has itself become a part of the experience. Visitors accustomed to drifting whimsically among gallery installations suddenly don't have as much freedom. "The fact that you're tethered to it with ear buds almost forces you to watch it, or at least it holds people longer," says Adam Stennett, an artist who specializes in disturbing pieces in various media involving mice and rats. "You're sort of at my mercy a little more than you'd normally be."

Stennett finds the iPod's size to be a welcome challenge to creativity. "I like playing with scale, and the iPod is all about smallness," he says. For one of his rodent-themed videos, Stennett built a miniaturized version of Brooklyn's Prospect Park and unleashed live rodents in it. He says watching the video on an iPod shrinks the toyland set even more while further exaggerating the rodents' Godzilla stature.

Other artists have found inspiration in the iPod's audio idiosyncrasies. "With the movies, the image came first and then sound was added," says artist Nelson Loskamp. "In the iPod, sound came first, so there's a different orientation." Loskamp's performance art pieces involve tying people up S&M style and giving them haircuts. He filmed one such performance for the iPod and discovered that the stereophonic intimacy of the device nicely emulated the experience of sitting in the demonic barber's chair.

"The idea is that the sound of the clippers goes around your head and comes from different angles," he explains. "I used the same three sounds over again, arranging them in different patterns. It was like recording a rock song."
Loskamp notes that most iPod art is indeed song-length, usually no longer than 10 minutes. "You have to remember that the viewer has his finger on the forward button," he says. "So you don't have much time to get your point — or nonpoint — across."

A passing fancy?

Is this an art form for the attention-deficit generation? Bryan Jackson, a lecturer in video art at UC Irvine, doesn't think so. "Instead of content spinning past us, we can now navigate, collect and replay content at our leisure," he explains, adding that the iPod resembles TiVo in this respect. Jackson thinks the iPod has the potential to disrupt the ways art is shown and sold. "I don't think galleries or museums will disappear," he says, "but the iPod provides a quick and inexpensive way for artists to show their work."

Lest it appear that Apple exerts a Microsoft-like grip on this new creative form, gadgets such as the Sony PlayStation Portable have also stoked artist interest, thanks to the transportable nature of the MP4 format. Dave Burns teaches at CalArts and co-curated the MP4-Fest at last month's Silver Lake Film Festival, which featured several MP4-compatible devices but no video iPods. Burns says he prefers the Sony PSP over the iPod because of its bigger screen and advanced user controls but is optimistic about all kinds of hand-held video. "These devices make the wide distribution of noncommercial art possible," he says.

Although the iPod's impact on the art world has been modest, its early-adopter fans are passionate. Heather Stephens, the curator for both "PodART" exhibitions, says the iPod makes showing video more space-efficient and cost-effective because she can exhibit multiple videos in a single room. Stephens directs the 31Grand gallery in Brooklyn, which is co-sponsoring the current show, and regards the iPod as a logistical godsend. "I can pack the entire exhibit in just one box," she notes.

The 'pods are multiplying

In Louisville, Ky., the 21C, a new hotel-museum hybrid that features its own contemporary art collection, has installed iPods in its rooms, allowing guests to view the museum's video works without ever leaving bed. The hotel has iPod-enabled five videos from its vaults — including works by Stennett, Guy Ben-Ner and Patricia Piccinni — and has plans to expand its collection to hundreds of videos, according to a hotel representative.

And from Japan comes what may be the most commercial distribution of iPod art. The Tokyo printing conglomerate Toppan has launched a graphic-art series that people can purchase at Apple stores in Japan as well as on Japan's Amazon.com. The project, known as Art Star, debuted in December and consists of nine CD-ROMS, each devoted to a Japanese artist. Users upload images from the CDs to their iPods and view them using the slideshow feature. Each CD is about $13 and comes with an MP3 pop song of the artist's choosing to accompany the slideshow.

"The idea came from the fact that people experience art mostly through museums and books," says Masaki Asano, an executive producer at Toppan's business-incubation department, which specializes in new media endeavors. "We thought there should be another way to enjoy art on an everyday basis."

Asano and his team met with a number of Japanese artists (including Yoshitomo Nara, Kenji Yanobe, Noriyuki Tananka and Katsura Funakoshi) to choose which of their new or existing creations would best fit the medium. The company also conferred with Apple, which helped Toppan with anti-piracy issues and watermarking technology.
Toppan declined to discuss sales figures, but Asano notes that the CDs, initially sold at only two Apple stores in Tokyo, are now at five locations.

This month, Art Star will go on sale in various art supplies stores throughout Japan. Beyond that, Asano says the company plans to move away from CDs and sell directly online, preferably through iTunes, which has the necessary security infrastructure in place, and will open Art Star to the international market.

"The sky's the limit," Asano says. "We want people to be able to access art in the same way they access entertainment."

Contact David Ng at calendar.letters@latimes.com.
Source: Ng, David, An art show that's a feast for the i's, Los Angeles Times, Sunday April 23, 2006, E1, E39.