THURSDAY, JULY 14, 2005 - PAGE 16

GALLERY - GOING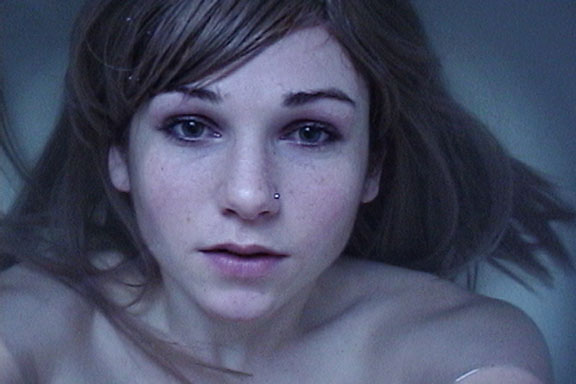 Alex McQuilkin, 'Test Run' (2005). MARVELLI GALLERY
By DAVID COHEN
_______________
DEAD KIDS DO NOTHING
31Grand
A traipse around Williamsburg's sun-baked, semi-deserted July streets serves as a timely reminder that pleasure ceased long ago to be the raison d'être for contemporary art. The group show at 31Grand is called "dead kids to nothing - an appropriately grungy, vaguely nihilistic, emphatically lowercase title.
A video by Lee Walton, "Making Changes," epitomizes the artist as nonchalant flâneur. It shows Mr. Walton pounding the sidewalks in search of opportunities for mildly Dadaistic provocations: putting a flower pot on the ground, removing the brick that keeps a street door ajar, closing up builders' balustrades, turning around a statue of a football player outside a bar, mucking up the place-settings on a café terrace.
He executes these little subversions with deadpan earnestness, and each segues instantly to the next. You watch wondering if he is finally going to get booked by a cop or punched by a vendor or contractor. But no passerby feels the itch to respond, either in like humor or chastisement. Perhaps, like the gallerygoer, the pedestrians are too hot to argue.
Though the entire exhibition is a paean to futility, some of the results risk a higher dose of humor or poignancy than Mr. Walton does while retaining a similar sangfroid. A slow-motion video by the show's curator, Adam Stennett, shot underwater, chronicles the fate of a mouse dangled into water and swimming for his life.
This keeps company with a video by Alex McQuilkin, in which the expressionless artist submerges herself in water, gently dispelling every last bubble of breath. She tests credulity with the prodigious length of time she remains on the brink of drowning. In the final seconds she breaks the spell, suspense, and stasis of the video and surfaces. But for several moments preceding, the viewer begins to wonder if this is indeed an auto-snuff movie.
As an exercise in art as self-punishment, "Test Run" belongs in the tradition of Chris Burden, Marina Abramovic, Janine Antoni. But it also relates to the compelling absurdism to her own earlier video (also a cropped head shot) in which she valiantly applies lipstick while having sex. Artistic styles change, but there's always sex and death.
Both of these inform the quirky and moving photographs of Spencer Tunick. He stages happenings in which volunteers strip and arrange themselves in heaps, densely filling his compositions in varying degrees of randomness and design. In the C-Print here, "Space 3 (Williamsburg, NY) 1999" (2005), flesh meets water with a Midtown skyline visible across the East River. Neither post-apocalyptic nor postcoital, the image seems like a colony of skinny-dippers determined to endure overcrowding, rather like the classic photo of a jam-packed Coney Island. Again nonchalance and nuttiness are the prevailing values.
Rebecca Chamberlain makes rather bland, illustrative interiors writ large, using ink from cracked-open ballpoint pens. This sticky, time-consuming exercise continues the themes of self-punishment and pointless rules. The title, "When You Take My Time, You Take Something I Had Meant to Use," is suitable whiny.
A vaguely sinister humor informs some of the exhibits, but a more poetic sense of vulnerability comes across in work by the show's two other painters, Natalie Frank and Elizabeth Huey. Both young women are Yale graduates whose accomplished, painterly, pictorially ambitious canvases are rich in mood and a sense of narrative.
Ms. Huey's storyboard landscapes, the subject of a recent solo exhibition at Feigen Contemporary and featured in the current group show there, usually star forlorn little-girl-lost figures rendered in a cramped, knowing style. In "Institution" (2005), however, the mood depends on knowing that the buildings in the background are the Sonoma State hospital, the Californian establishment where, in the 1950s, "feeble-minded" children were subjected to radiation experiments.
If Ms. Huey can seem, at times, a cross between Henry Darger and Peter Doig, Ms. Frank combines Dalí and David Salle. The dismemberment and juxtapositions of body parts, flowers, and drapery are vaguely surreal, but her imagery and finess are more voluptuous than the art that surrounds it here. Her dead kids are pretty lively, in painterly terms. We should watch what they do next.
* * *
A rich darkness permeates the landscape show at Roebling Hall, down the block from 31Grand. More romantic than zany, it taps a sense of the contemporary sublime, trotting out old favorites like ecological disaster, dystopia, and apocalypse, rather like a command performance.
There are some arresting, poignant images: Justine Kurland's wistfully defiant back-to-nature communards, Christoph Draeger's aerial views of tsunami-hit towns printed on jigsaw puzzels; Hans Op de Beeck's painterly, Atget-like animated DVD of a romantic garder.
Dan Ford can create astonishing political allegories in an anachronistic, Old Masterly style. Here an eclectically influenced painting shows shades of Turner, John Martin, and Novocento kitsch. Like its subject, "A Game of Dice by the Road to the Temples of the New Jerusalem" (2005), the painting points to a messianic future messy with unresolved dichotomies: irony and ecstasy, blasphemy and fervor, futility and redemption.
"Dead kids" through August 7 (31 Grand Street at Kent Avenue, 718-388-2858)
"Wasteland" through August 1 (390 Wythe Avenue, between S. 4th and S. 5th Streets, 718-599-5352)
Source: Cohen, David, DEAD KIDS DO NOTHING, THE NEW YORK SUN, Arts & Letters, Gallery - Going, July 14, 2005, p. 16.