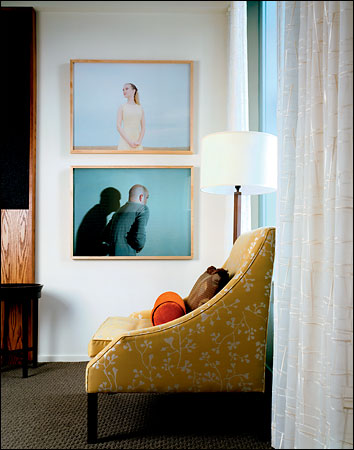 A room in 21C, a boutique hotel in Louisville, KY., that will showcase work from the owner's $10 million art collection.
The Art Hotel
IN LOUISVILLE, RELAX AMONG THE ANDRES SERRANOS.

On a list of things that Louisville, Ky., is known for, cutting-edge art ranks somewhere far below baseball bats, horse racing and good bourbon. Steve Wilson hopes to change that. With his wife, Laura Lee Brown, Wilson is scheduled to open a boutique hotel, 21C (for 21st century), in April that will showcase works from his $10 million art collection. All the artists represented are living, and the art is daring — Andres Serrano's photos of the homeless, a mouse-infested video from the Brooklyn artist Adam Stennett. (Many of the more confrontational works will be displayed in a free museum inside the hotel, and the 90 rooms will feature smaller works on paper.) Listed on the National Register of Historic Places, 21C occupies five buildings (four warehouses and a bank) that cost $26 million to renovate and took six years to complete. It will be part of the city's downtown renaissance, which includes a science center and the Muhammad Ali cultural center. Welcome to the new Louisville, slugger. 21C Museum Hotel, 700 West Main Street; (502)589-4690; www.21cmuseumhotel.com. PAUL L. UNDERWOOD
Source: Underwood, Paul L., The Art Hotel, The New York Times Style Magazine, Travel, The Remix, Sunday March 19, 2006, p. 22.
adam@adamstennett.com