90 Texto y pinturas Adam Stennett
Los Amigos Invisibles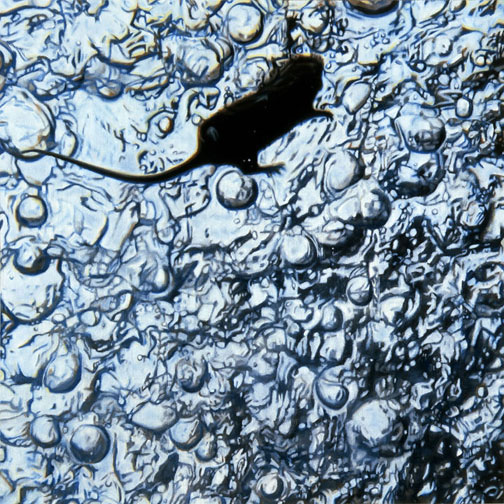 ADAM STENNETT, "MOUSE SWIMMING OVERHEAD 1" 2004, OIL ON WOOD, 12" x 12"
A través del tiempo, en diversas culturas, las ratas y ratones aparecen de manera recurrent en los mitos y en historias y fabulas. Aunque la idea pueda ser incómoda para algunos, los seres humanos tienen un vinculo con las ratas y los ratones. Estos animales han desempeñado diversos papeles en nuestra vida. Han sido causa de epidemia devatadoras pero tambien han servido de ayuda para encontrar la cura de muchas. Las ratas y los ratones se han burlado de nosotros cotidianamente. Están dondequiera que nosotros estemos.
Durante los últimos tres años me he asomado al mudo de los roedores... fotograpfiandoulos, grabandolos, pintanodo y viviendo con al menos 36 ratones en mi estudio.
El intteres por las cosas que occurr a nuestro alrededor de manera imperceptible y observar el mundo de estos seres permite ampplliar nuestra perspectiva a partir de lo pequeño.
Adam Stennett
English Translation
Throughout time and across cultures, mice and rats have been used in myth, folklore, and storytelling. Although the idea may be uncomfortable for some, humans share a connection with mice and rats. They have played complex roles in our lives. They have carried diseases and helped us find cures for diseases. Mice and rats routinely outsmart us. They are everywhere we are.
For the past three years I have submerged myself into a world of mice... photographing, shooting video, painting and living with as many as 36 mice in my studio.
I am interested in the unnoticed and small happenings that occur all around us while we pass by. Following mice into their world allows us to change the scale of our perspective and get closer to the small.
Adam Stennett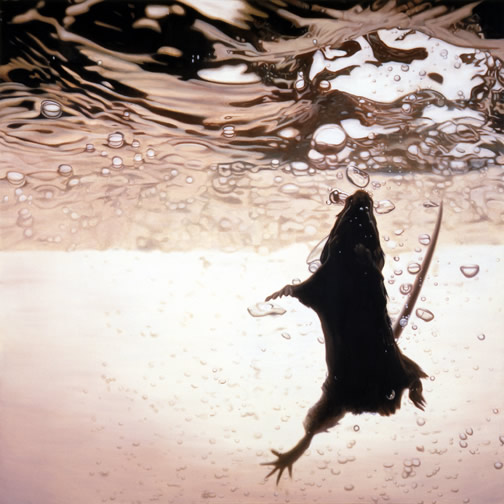 ADAM STENNETT, "UNDERWATER MOUSE 1" 2003, OIL ON LINEN, 72" x 72"

Source:Los Amigos Invisibles, PICNIC, Supervivencia y Bienestar, Compulsives, No. 2, Jan/Feb 2005, p. (illus: Mouse Swimming Overhead 1, Underwater Mouse1, by Adam Stennett)