Vol. 6 No. 8, April 2003
Short List
Brooklyn
City Mouse / Country Mouse, Space 101: This ambitious group exhibition examines two equally strong currents in contemporary art, as practiced by some of today's most promising emerging artists. The tongue-in-cheek premise of the show distinguishes artists who stem from the romantic idealization of country life, with its edgy pastoral utopias and feral realities, from those whose examination of the urban terrain informs their work. The latter is more associated with technological advancements and societal structures.
Crisscrossing between those boundaries, Adam Stennett's monochromatic painting, Underwater Mouse 1, portrays a rodent submerged in water. Ambiguously it could represent either the friendly, sweet country mouse of animated tales, or it can represent its urban cousin, the repulsive, fetid sewer rat, the very embodiment of the seedy underbelly of urban life. Mick O'Shea's room partition (an assemblage hung on what appears to be a pre-fab facade) acts as a porous boundary between the show's dichotomous themes. Utilizing fake flowers, faux-wood contact paper, astro-turf and a linoleum tile checkerboard floor, this work reads like a paean to 1950's cultural artifacts. Divorced from nature and indeed anything "real," it seems to imply a bastardization of the American suburban dream.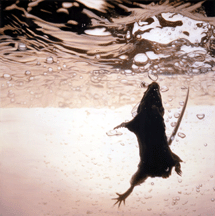 Adam Stennett, Underwater Mouse 1, 2003, Oil on linen, 72 x 72 inches. Courtesy: Space 101, New York
Also crossing the boundaries between the real and unreal, Ann Craven's painting of an immense bird in party-cake colors of sunset pink and licorice, City Louse depicts scenes from reproductions of nature. The enormous scale and greeting card colors she employs remove her images from subjective reality, hinting at a lost paradise.
Artists working the city theme tend toward edgy sensibilities, combined with technology and the grided substrate of the urban environment. The collaborative team of ChanShatz combines digitally manipulated images, some realistic (as with the man being submerged under blankets of folded fabrics) with some that are non-objective, such as the kaleidoscope patterns and colors that recall Persian tiles, diagrams and mandalas. In the bright hip hop colors of hot pinks, limes and grapes, ChanShatz nearly jumps off the wall; combining figuration and abstraction in a sizzling visual glut.
Other stand-outs include Nicole Cherubini's G-Pots with Gems, a peculiar floor sculpture with gilded pots chained to enormous fake jewels that evoke visions of decadence; and Dan Kopp's The New Hunter, an eerie image of personified insect that vaguely resembles a praying mantis that appears to advance toward the viewer. Utilizing brilliant colors and organic shapes that float against a non-literal airbrushed background, Kopp produces images that could be termed Neo-Baroque; a term that aptly characterizes much of the work in this show. Through 4/14.
JOYCE KOROTKIN

Ed. Note: Space 101 is located at 101 North 3rd Street, Brooklyn, NY 11211 Tel: 718.218.8211
Source: Korotkin, Joyce, City Mouse/Country Mouse, M, THE NEW YORK ART WORLD, Short List, Brooklyn, Vol. 6 No. 8, April, 2003, p. 11-12 (illlus: Underwater Mouse 1 by Adam Stennett).